Colonnade's CEO and Managing Director Gina Cocking was interviewed by Ryan Nelson of the Advanced Principles Podcast.
This interview highlights the important role that Colonnade Advisors plays for our clients when they embark on the process of selling their company, raising capital, or seeking to acquire another company.

Colonnade Advisors has deep experience in the automotive dealership services industry. We publish Quarterly Updates on the Auto F&I sector with information on dealer profitability and recent transactions.
In this most recent interview, Gina and Ryan cover the following questions:
What makes Colonnade unique as an Investment Bank/Advisor? (6:00)
How Colonnade Advisors brings specific value to the transaction process (13:00)
What is the difference between a Private Equity firm and an Investment Bank? (15:00)
How the pandemic created shifts in the auto industry and auto-related M&A (20:00)
What makes Colonnade unique as an Investment Bank/Advisor? (6:00)
We focus, so we know the industry dynamics, business models, valuation metrics, accounting issues, and participants. We maintain a dialogue with our extensive network of owners, investors, and buyers in our target sectors.
Gina: Our focus goes back over decades. In the early 2000s, we worked with Mepco on its sale to Independent Bank. Mepco had two lines of business: 1) insurance premium finance and 2) vehicle service contract (VSC) finance. We worked closely with Mepco on both lines of business to create a successful outcome for their owners and team.
We became experts in the insurance premium finance industry and the leading advisor on transactions in this space. We are the leading investment bank in the United States in insurance premium finance. We've done 28 transactions in the insurance premium finance industry.
Through our work with the team at Mepco, we also got to know the vehicle service contract (VSC) space. After a decade of working with our clients at Mepco and Independent Bank, we assisted with the sale of Mepco'spayment processing business to Seabury Capital Group.

Eventually, that took us into the overall Auto F&I (Finance and Insurance) space where we've had the opportunity to work with direct marketers, agencies, and administrators. (Read more about the F&I ecosystem here).
We also work with finance companies in the automotive sector: subprime lenders, near-prime lenders. We closed a transaction last fall for OpenRoad Lending, a direct-to-consumer marketer of auto loan refinancing.
We've been doing a lot in auto finance. This has taken us into data analytics, especially on the direct-to-consumer side. Direct-to-consumer marketing is all about data and data analytics. We have now worked with a number of data analytics companies and marketing companies associated with the automotive space.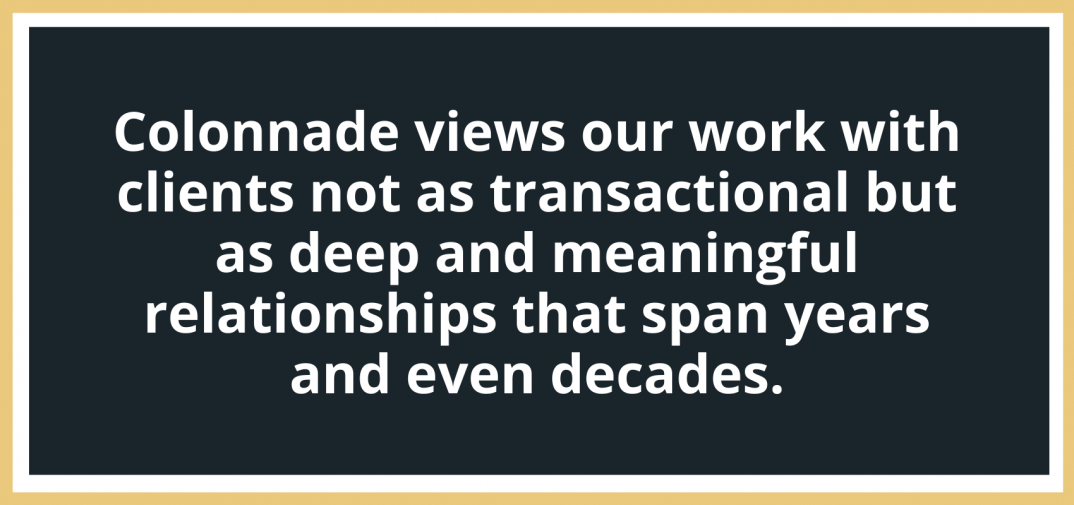 How Colonnade Advisors brings specific value to the transaction process (13:00)
Gina: We have pattern recognition, and we're rarely surprised.
Every transaction's different. There's always something new. When things are new and different, we have the skill set to navigate the situation.
What differentiates us from our competitors in this space is the tenure, institutional knowledge, and experience of our senior bankers.

At other Investment Banks, team members float through the different groups. They don't stay long enough to develop industry and institutional knowledge. Their junior teams turn over. More importantly, they don't have anything but transactional experience.

Clients, especially entrepreneurs or family-owned businesses, need more than just the transactional experience. They are looking for long-term relationships like we provide at Colonnade.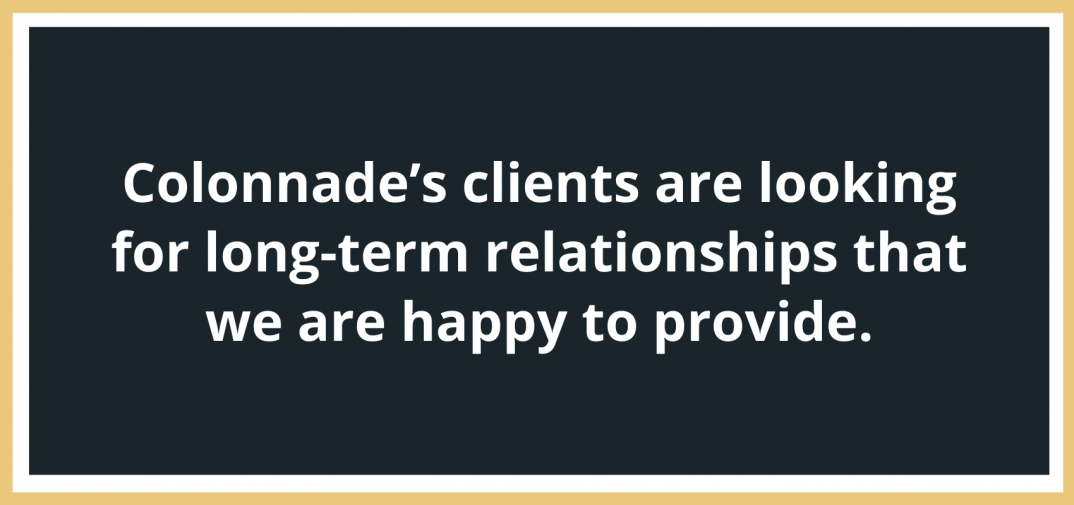 What is the difference between a Private Equity firm and an Investment Bank? (15:00)
Gina: The Private Equity (PE) firms have a pool of capital to invest in one or more companies. Their goal is to become the owner of a company. They'll negotiate and buy a company so that the company is then part of their portfolio, which they'll eventually sell and hope to make two to three times their money.
Most private equity folks have gone through investment banking at some point in their careers. What's different about what they do is that they're managing other people's money.
In investment banking, we are advisors on either the buy-side or the sell-side. Sometimes I've had people say, "Well, you're kind of like a real estate agent." My answer: "Not really." There are business brokers that are more like real estate agents, however.

We are there to work with the (client) company side-by-side. If they're selling, we help them prepare for the sale and go through the process. That includes getting to know the company so well that we can tell their story almost as well as they can. We help them to articulate their story: Where they have been, where they are today, and where they're going.
We then prepare written documentation, called a Confidential Information Memorandum (CIM). We identify the potential buyer universe. We contact those buyers. We negotiate with buyers. We answer all their questions. We deal with thousands of documents in the data room.
We negotiate the terms of the transaction. We work closely with the attorneys on all the transaction documentation. We'll provide our industry perspective and our business knowledge, but we're not attorneys. We help get the deal to close. One of the important things is we keep the deal on task. It's all about not letting people lose focus, keeping the deal going, and getting it to close.
In investment banking, we are paid a success fee upon the close of the transaction. Whereas a private equity firm is buying the company (and gets paid on the subsequent sale of the company after growing its value).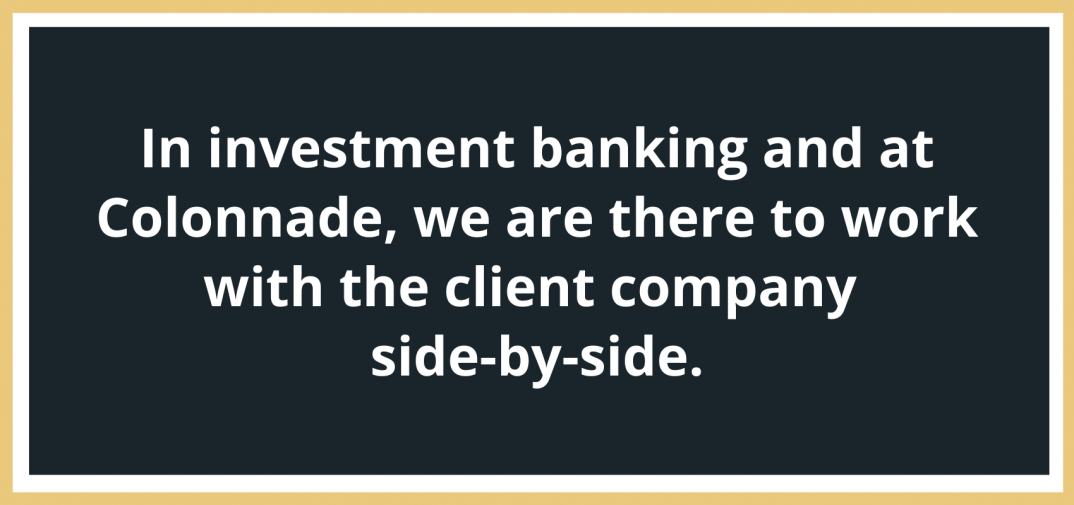 How the pandemic created shifts in the auto industry and auto-related M&A (20:00)
Gina: Everybody freaked out in the Spring of 2020. But we've worked with some visionary companies where we've been able to create some fantastic win-wins.

We had a deal that was supposed to close at the end of March 2020. The buyer put it on hold but worked with us to restructure the deal with an earnout. The transaction closed, the seller hit all their earnouts, and it was a fabulous deal for all.

Let's talk specifically about the Auto F&I side: administrators and agencies. While everyone dipped in the spring of 2020, performance improved in the second half of the year, and then 2021 was a fantastic year. This was not as predicted, considering the supply chain issues. Fewer cars were being sold.
Why the fantastic year? The dealers are hyper-focused on making money when they can. The dealerships realized that F&I is uber important to the long-term profitability of the dealership. Dealers are selling more F&I products with every car. That has benefited the administrators.
Consumers have also had great experiences with these products. They've had claims paid out on their vehicle service contracts. They're telling their family and neighbors, "It's really a good product." We have finally seen the maturity in the F&I industry that this is a peace of mind product. It's not just a product that a dealership is trying to push onto a consumer; it's a valuable product.
2022 has been a great year for Administrators. The dealerships are profitable, and they're also getting better at selling products. We've started a new phase.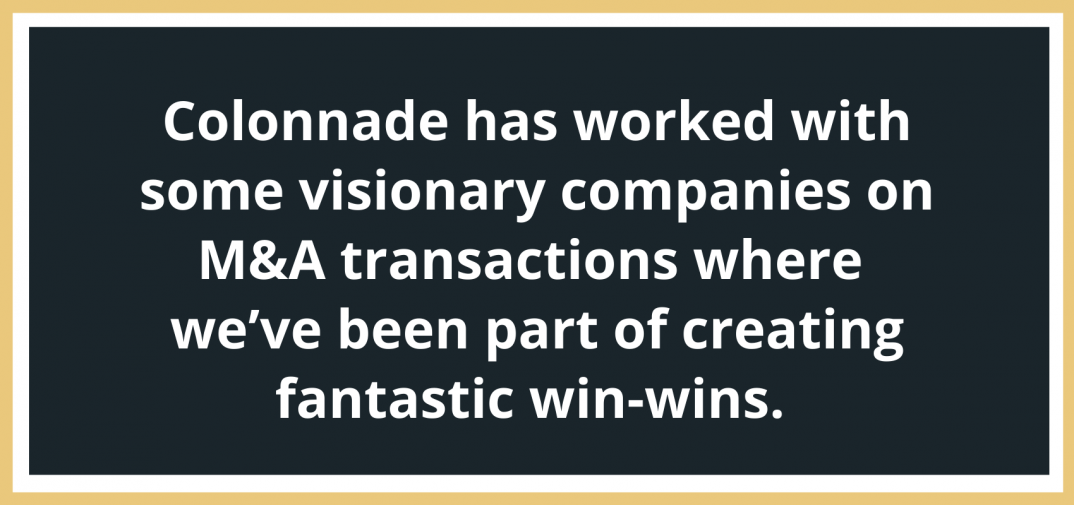 Colonnade Securities is a leading investment banking firm that has completed over $9 billion in M&A transactions for clients in the business and financial services industries.
Our firm has deep expertise in a number of industries and a unique focus on client relationships. Please reach out to Gina Cocking or Jeff Guylay on LinkedIn with any questions about your company and next steps towards a successful transaction.