Colonnade's CEO and Managing Director Gina Cocking was interviewed (in a second interview) by Ryan Nelson of the Advanced Principles Podcast.
Advanced Dealer Solutions is a premier F&I development agency specializing in the automotive, RV, and power sports industries. Advanced Dealer Solutions works to maximize the purchasing experience as well as increase F&I sales and profits as well as increase service sales and retention.
Advanced Dealer Solutions has assembled one of the most sought-after F&I training platforms in the industry. They have a passion for increasing dealer profits by providing industry-leading technology and implementing an F&I selling system that is guaranteed to elevate performance. Advanced Dealer Solutions is driven to provide dealers with products and solutions that result in increased production, profitability, customer retention, and most importantly, customer satisfaction.
Advanced Principles Podcast was created to be an outlet for like-minded individuals to share in the broader conversations on leadership, retail market updates, and incredible success stories.
Colonnade Advisors has deep experience in the automotive dealership services industry. Colonnade is a leading investment banking firm that has completed over $9 billion in M&A transactions for clients in the business and financial services industries.
Our firm has deep expertise in the automotive F&I industry and has advised many companies in the sector on strategic transactions. Please see our Quarterly Updates on the F&I industry here.
This interview highlights the important role that integration plays in the automotive industry today. Gina and Ryan discuss two types of integration, vertical integration and transaction integration.
In this most recent interview, Gina and Ryan cover the following:
Vertical integration in the industry (2:00)
Post-transaction integration (9:00)
The impact of integration (12:30)
Vertical integration in the industry (2:00)
How do independent agencies/agents add value within an ecosystem that is experiencing a high volume of M&A activity?
Within the F&I ecosystem, F&I agencies and their agents sit between the F&I administrators and the F&I office within the dealership.
Independent agents are like insurance agents. They bring together the product administrators and the dealers.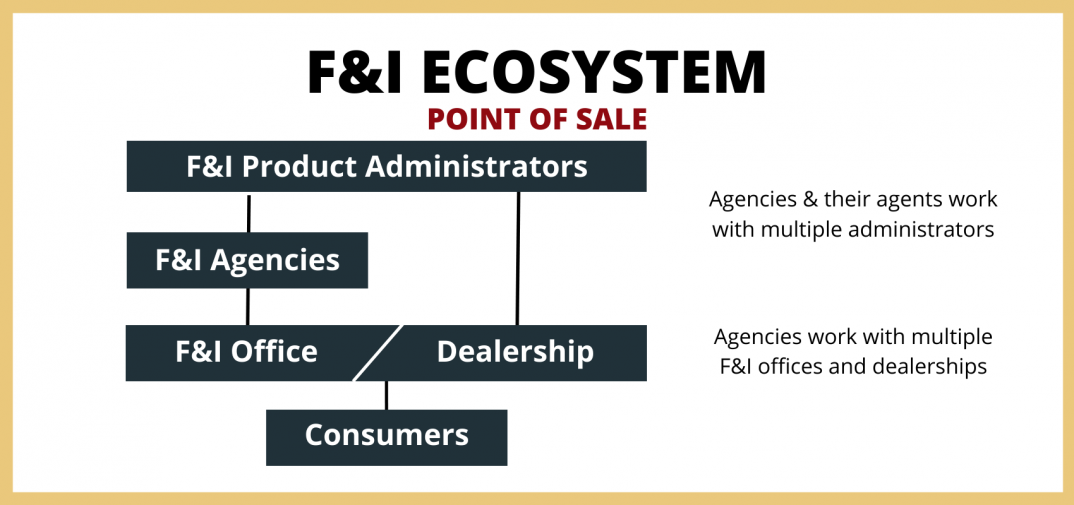 Gina: In 2015, we saw M&A start to pick up with administrators being acquired by private equity firms. That's when we issued our first white paper (Industry Report) on industry consolidation.
We've included information on Colonnade's most recent Industry report on this sector.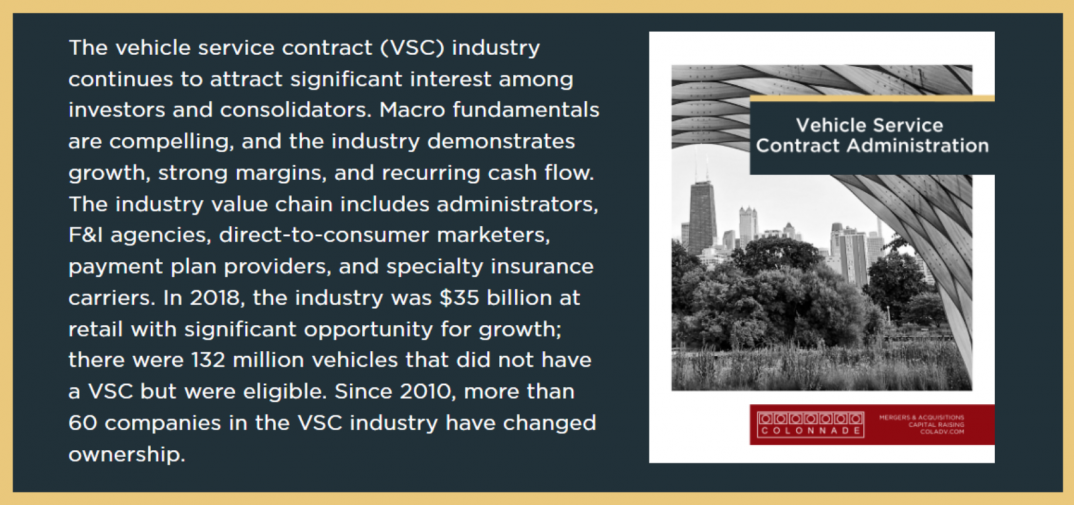 Administrators need to control their distribution. So they're going to buy agents. And we've seen this rapid set of acquisitions by administrators.
This industry is similar to the insurance industry and insurance brokerages. Twelve years ago, PE firms said, "the insurance brokerage industry is very fragmented. We're going to buy a platform. Then we're going to do lots of acquisitions." So companies like HGGC, or GTCR, in Chicago, bought platforms and then started doing these acquisitions. They do a hundred acquisitions a year.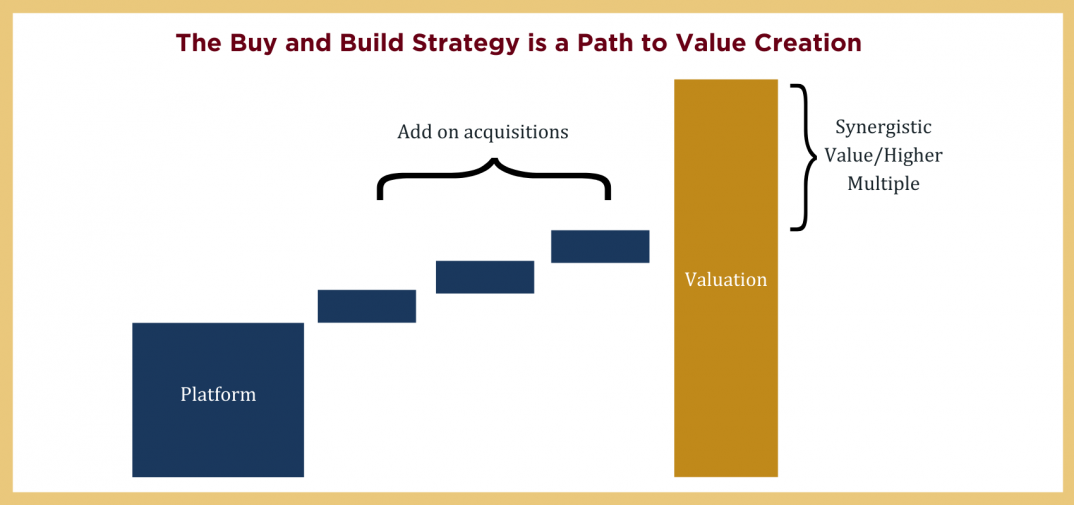 Every year, there are 600 acquisitions of insurance agencies. How does that happen? It keeps getting repopulated. Some agencies get acquired by a bigger agency. All the junior agents stay. And, then a year or two later, they pop out of their larger company and go form their own agency. And then they grow it and sell it. And I'm starting to see that happen in the F&I industry.
Post-transaction integration (9:00)
Post-transaction integration has to do with the plan for how the two companies will come together after the merger. It's not just product and sales integration but people integration, finance integration; many, many layers. We talk on this podcast episode about how Integration is one of the four elements of a FAIR transaction so that, in this context, two plus two can equal 200.
Gina: The hardest part of mergers and acquisitions is not the transaction. It's what happens over the next 18 months, post-transaction.
How does that integration work? Are you taking advantage of the revenue opportunities? Are the company cultures compatible? Are the people compatible? Not all transactions work out. You'll see companies that consolidate up. And then they have to break back down into the pieces, or the employees and teams within those organizations say, "Gosh, our clients are complaining about our service… When we were small, we were so much better." So they leave and go start a competitor.
M&A kind of creates a forest fire. The forest fire comes through, takes everything out, and then it leaves room for new innovative companies to come out of the ground. So more companies will be coming up and that will fuel more mergers and acquisitions.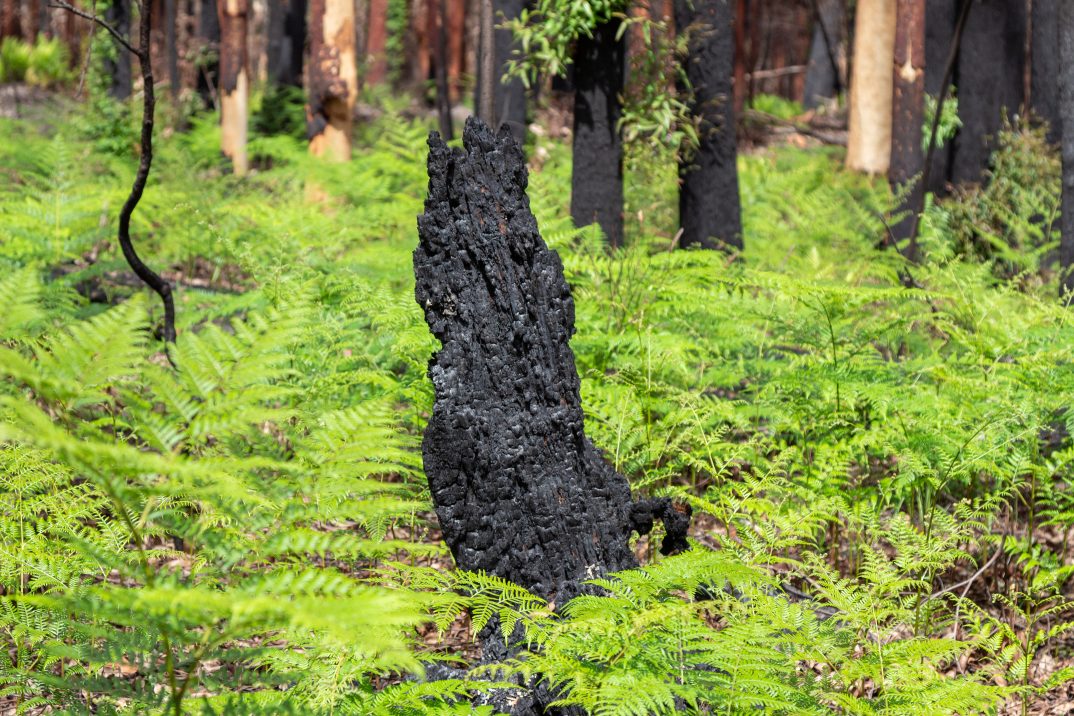 The impact of integration (12:30)
Ryan and Gina discuss dealership consolidation, competition, innovation, and the need to keep dealer concentration (percent of customer base) to less than 10%.
Gina: Dealership consolidation is a very important issue for administrators and for agents. When we are working with companies, we take a look at who their dealership clients are.
When we are selling an agent, a good rule of thumb is that an agency ideally shouldn't have a concentration of greater than 10% of sales, and that's at the per dealer group. That's another thing that often isn't looked at in this industry.
Concentration risk is real. Administrators have the same risk. In any M&A transaction, we look into that. If somebody wants advice on how to get the best value for their company, you've got to keep that concentration as low as possible. Oftentimes, anything greater than 20% is a non-starter. Less than 10% is ideal.
The thing that keeps everyone up at night, in this industry, is concentration risk. Is my dealership going to be sold? Are my agents/clients going to be sold?
Agents must continue to evaluate their product sets and find new and innovative products. So the question is, what makes a product set better than another product set?
And I have come to the belief, after working with these companies for a number of years, that the best companies are those that are continually innovating. Those that are continually saying,
What do my clients need?
What do car owners actually need?
What do they need today?
What are they going to need a year from now?
Those are the companies that are the most exciting and innovative.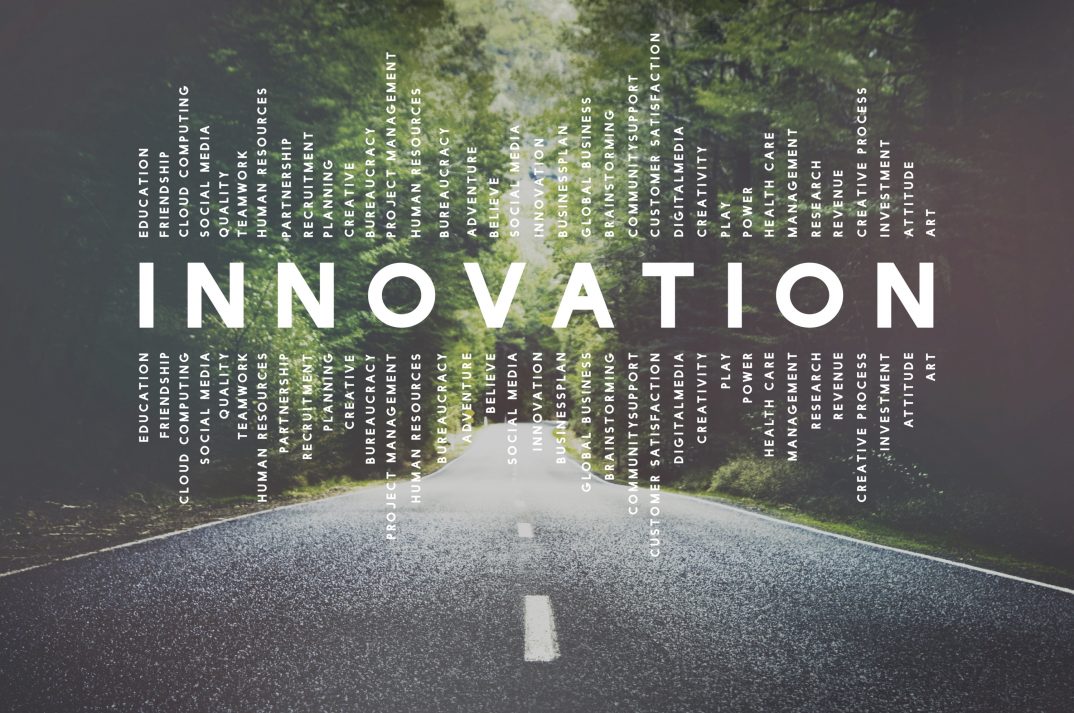 Listen to the interview to hear the final "Fast Five" questions including Gina's take on Chicago pizza and an exciting trip to Six Flags with a chief rollercoaster designer.
Thanks for watching/listening/reading, and thank you to Ryan Nelson of Advanced Principles Podcast for having Gina on the show.