The process of selling your company can be neatly categorized into four phases, taking place roughly over a period of 16 weeks.
The four phases are:
1) Pre-Marketing
2) Go to Market
3) Management Presentations / Buyer Due Diligence
4) Exclusivity / Documentation
In this inaugural episode of the Middle Market Mergers & Acquisitions podcast, Gina Cocking and Jeff Guylay focus on the first of the four phases: Pre-Marketing.
To conclude the episode and to hear the perspective of a CEO who has recently been through the sales process, we are joined by Elizabeth Davies of Stonemark.

We invite you to listen to episode 002 where we discuss in detail phases two through four of the process of selling your company. You'll hear more interesting insider information from Elizabeth Davies, President of Stonemark, in that episode.
Takeaways from Gina and Jeff in this episode:
Jeff Guylay outlines the 16-week sales process timeline in four phases: pre-marketing, go to market, management presentations/buyer due diligence, and exclusivity/documentation. (1:00)

Download the sales process chart here

.

Gina Cocking discusses why phase one, the pre-marketing phase, can take the longest (4:30)

Jeff and Gina discuss Colonnade's due diligence process (what documents and requests are made during their initial diligence) (05:32)

The role of the investment banker as the "confessor" to benefit the buyer and the seller (07:34)

Gina talks about how diligence helps develop the story – the narrative and the financial model (09:22)

Jeff outlines the importance of having an accountant for telling the financial story of the business (16:17)

Gina and Jeff discuss how phase one (pre-marketing) is a difficult, but necessary, first step (21:03)

Gina touches on the importance of retention packages for management during the sale process (22:03)
Takeaways from Elizabeth Davies in this episode:
Elizabeth Davies describes the sales process as if baking a cake. We (the business) make the cake, and the investment bankers (Colonnade Advisors) put the icing on the cake to make it as pretty as possible (28:26)

Elizabeth emphasizes the importance of having a realistic idea of your company's value and staying focused on running the business effectively during the sale process (29:28)
About Our Guest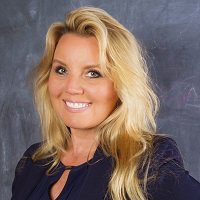 Elizabeth Davies is the President of Stonemark Inc., a full-service insurance premium finance company founded in 1983 and headquartered in Frisco, Texas. Elizabeth brings over 30 years of financial services expertise to Stonemark and oversees all corporate functions, including sales and marketing and Stonemark's banking relationships. Elizabeth is focused on sales growth and expansion into new markets.
Under Elizabeth's leadership, Stonemark was acquired in 2018 by H.W. Kaufman Group, a global network of insurance companies. Website: www.stonemarkinc.com