In this episode, Gina Cocking and Jeff Guylay conclude their discussion around the due diligence process related to the sale of a company.
This episode is part of a four-episode series exploring the due diligence process that began with 003 on the business aspects of the due diligence process.
EP003: Business aspects of due diligence
EP004: Legal aspects of due diligence
EP005: Accounting aspects of due diligence
EP006: Technology aspects of due diligence (today's episode)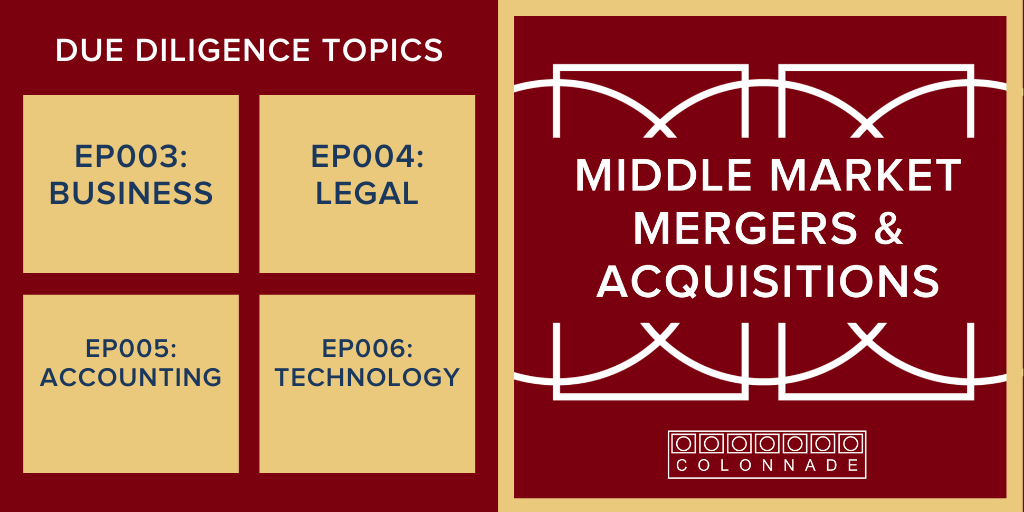 Gina is again joined by our featured guest, Rob Humble, Senior Vice President of Strategy and Corporate Development at IAS. Rob shares his insights as a buyer on technology issues that arise in diligence.
Gina and Jeff's discussion highlights four key questions related to the technology aspects of due diligence:

1) who is doing what (who is leading the tech team, who is on the tech team, and what aspects of technology are outsourced)?
2) Who controls the intellectual property?

3) How much has been spent, and how much needs to be spent over the next few years?
4) Is the technology scalable for growth?

In this episode, Colonnade Advisors addresses the following questions as related to the technology aspects of due diligence:
Are technology aspects of due diligence applicable even if the company is not a technology company? (1:00)
Gina: "Every company is tech-enabled, so every company is going to have some element of technology that they utilize every day. Disclaimer, this is not for technology companies. This episode is not a deep dive on the due diligence that a buyer or investor would conduct on a technology-focused company but instead a more general review of what all companies should think about when they're preparing to take on capital or sell the company."
When answering the question about who is doing what, where does a company start? (2:25)
Gina: "Start with the easiest thing, and that's an org chart. Is there a chief technology officer who reports to the chief technology officer? Is there a database administrator? What is outsourced? Is there even a CTO? Is some of it done by a consulting firm that comes in weekly, quarterly, just on call? Who is doing the development, and who has the rights?"
Does a company need proprietary technology to raise capital or be sold? (3:26)
Jeff: "The in-house versus outsourced piece is particularly interesting especially for some of the smaller companies we work with, because a small company obviously may not be able to afford a CTO. Many of the clients we work with use off-the-shelf technology platforms, standard email, and other operating systems. The important issue is scalability."
What do investors look at during due diligence as related to technology? (3:00)
Jeff: "They're going to come in and look through the financials and see where the costs are. They'll look at the org chart and see who's doing what with whom."
What areas of technology are investors assessing during due diligence? (3:15)
Jeff: "Everything from the reliability of the systems, cybersecurity, disaster recovery, the policies and procedures in place, and whether or not you've had any data breaches."
What should a company put together prior to a capital raise or sale? (4:57)
Gina: "A system diagram. A piece of paper with a bunch of boxes that show laptops, servers, internet/cloud form, e-commerce backbone, CRM, and where all the systems are located."
What else needs to be compiled and documented? (5:47)
Gina: "What licenses do you have? What technology do you own, and who built it? What is your cybersecurity around all these different technologies? What are the processes and procedures as documented in manuals? Another big area when assessing the technology is disaster recovery. If the electricity were to go out for three hours and you had to bring everything back up, can you do it?"
Does having proprietary technology make a company more valuable in a sale? (9:34)
Gina: "One thing that we run into sometimes with companies that we're working with is they'll say, "I am different from my competitors because I have a better operating platform. We spent $4 million on it, and it is better than what my competitors are using. Is my company worth more?" That question always causes me to pause. It's great to have your own platform; it may make you more efficient, and we will want to explore and test whether or not it increases your efficiency as a company. But unless you can actually take that technology and sell it to other customers, it may not have intrinsic value unto itself."
Should I build proprietary technology prior to selling my company? (10:27)
Jeff: "We encounter the buy versus build discussion all the time. It is challenging because entrepreneurs may be thinking in terms of an outlandish multiple. It depends on whether or not that technology is unique enough, flexible enough, adaptable, and scalable."

What are some of the scalability issues around technology in the sale of a company? (11:45)
Gina: "Buyers will ask: "How much is it going to cost me to keep this up? When do we have to upgrade? How do we know you're keeping up with all the regulatory, compliance, latest and greatest in cybersecurity?" In middle market companies, these questions are hard to cover with a four-person tech department."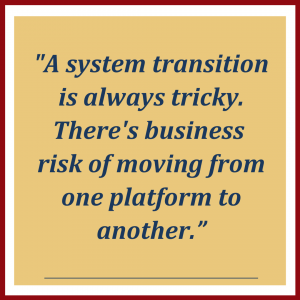 Does a company need to upgrade systems prior to a sale? (13:23)
Jeff: "We're working with a client right now that has been on an older loan management platform for 25 years, and as part of the capital raise we're going to help work with them to upgrade systems. They're going to jump from one smaller universe loan management system to a more widely adopted one. The transition from one system to another is always tricky and expensive and takes longer than you think. There's business risk of moving from one platform to another. We've talked about in other podcasts the importance of hitting your numbers and focusing on your business. To layer on a systems transition or integration project at the same time is probably more than you want to bite off."
How are technology investments accounted for in valuing a business? (14:45)
Gina: "When looking at the costs of technology, you look at the past investments and future investments. For past investments, we'll look at: Was it properly accounted for? Were technology costs capitalized where they can be capitalized? Oftentimes we'll find that these expenses could have been capitalized. We'll do a proforma adjustment to the financials to add back those costs. These costs will not count against you on your EBITDA, as it was a one-time charge. Then we'll look at future technology expenses and we will model that out in our forecasts."
How is technology when used as shared services between divisions or subsidiaries accounted for in a transaction? (16:27)
Jeff: "Some of our clients, particularly larger corporate clients, are operating as divisions or subsidiaries of larger businesses. They share services with the parent organization. We go through the financials carefully to make sure that you have the right expenses associated with the business, you have the right licenses that can transfer with the business that you're selling, boxing the whole thing up to make sure that the package is complete."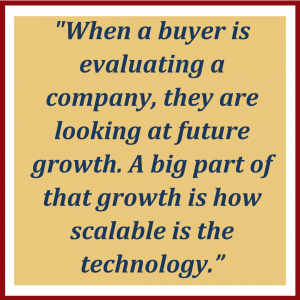 Why is scalability a key issue in technology due diligence? (17:43)
Gina: "When a buyer is evaluating a company, they are looking at future growth. A big part of that is how scalable is the technology."

What is typically more scalable, off-the-shelf technology or home-grown systems? (18:00)
Gina: "Typically, off the shelf and web-based systems should be very scalable. You can get to two, 10, 20 times the current size, and the technology should be able to scale with you. When the technology is homegrown, there will be a deeper investigation into how scalable that technology is and what costs are involved with scaling that technology."
Why is a technology review important when selling a company? (19:10)
Jeff: "It all comes back to valuation and the forecast that we present to the buyers. Even if these aren't technology companies, they're all tech-enabled, and you don't want them to be tech disabled. We absolutely have to be able to defend the diligence that the platforms and systems and policies and procedures we have in place can support the growth plan."
Gina invites Rob Humble, Senior Vice President of Strategy and Corporate Development at IAS, who shares his perspective from the buy-side of a transaction as related to technology due diligence.
What exactly are you looking for in technology diligence? (21:45)
Rob: "For us, it's not about whizzbang innovations; it's not about is it bigger, faster, better. Generally speaking, what we're looking for is sustainability. Is it secure? Is it written on a solid code base? Is it written on the right tech stack that we can support long term?"
About Our Guest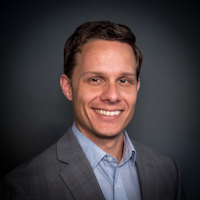 Rob Humble leads strategy and corporate development for IAS. Before coming to IAS Rob held strategy and corporate development leadership roles with financial services firms NetSpend and Rent-A-Center. Prior to his time in financial services, Rob held strategy, finance, and operations roles at Fortune 500 companies spanning the automotive, defense & aerospace, and chemical industries. Rob earned his bachelor's degree in mechanical engineering from Washington U. in St. Louis, graduating magna cum laude. He also holds an MBA from Harvard Business School. Rob lives in Austin, TX with his wife and two young kids. He enjoys hanging out with his family, distance running, watching Oklahoma Sooners football, and indulging in random interests including knitting, furniture building, and home improvement. You may reach out to Rob via his email: rhumble@iasdirect.com