This episode continues our series of "industry spotlights," focusing on specific trends and opportunities in middle-market M&A transactions. Previous episodes include Insurance Premium Finance, Home Warranty, and Automotive Reconditioning.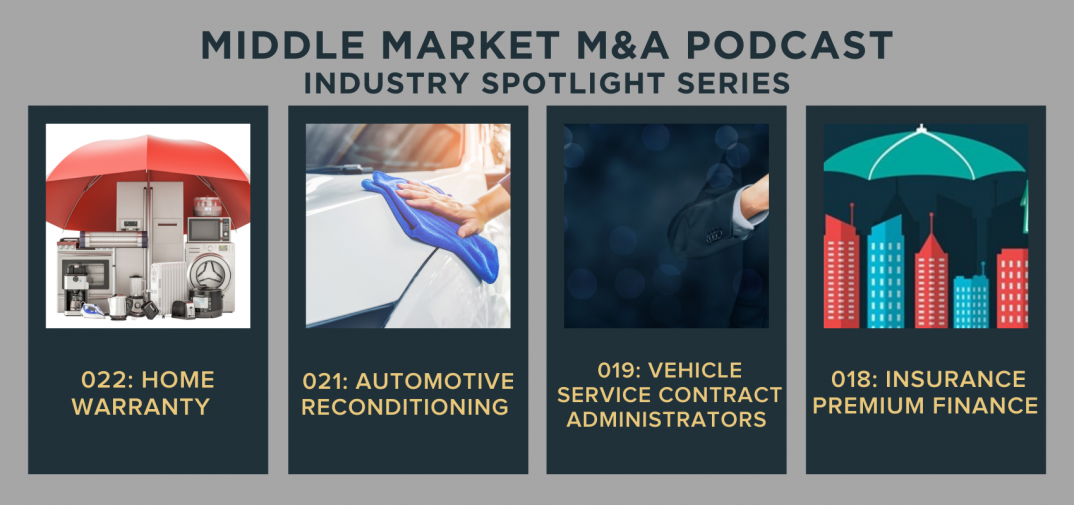 This episode kicks off several episodes around the finance and insurance ("F&I") products industry, estimated at $80+ billion in size at the retail level. Specifically, this episode is all about vehicle service contract ("VSC") administrators.
Colonnade has extensive transaction experience in the automotive F&I products industry and has been on the sell side or buy side M&A advisor on many of the significant F&I products transactions that have taken place over the last decade. These transactions are complex and require an investment banking team with deep industry knowledge. Colonnade has insider-level mastery of the drivers of valuation, competitive positioning, business trends, relevant metrics, and the right buyer universe, enabling us to provide superior deal execution to our clients.
In this episode, we answer the following questions:
What is a VSC?
What types of car problems are covered under a VSC, and how does it differ from car insurance coverage?
What is the F&I products ecosystem?
What are the economics of a VSC?
What is the value of VSCs to consumers?
Who are the major players in the VSC administrator industry?
What are the consolidation trends in the VSC administrator industry?
How are VSC administrator companies valued?
What is a VSC? (02:30)
Gina Cocking: A VSC is like a warranty but cannot be legally called a warranty. OEMs can only offer warranties. Essentially, a VSC is covering any mechanical failures on a vehicle, which can range from problems with the engine, electronics, windows, and others.
What types of car problems are covered by VSCs? (02:38)
Gina Cocking: Different VSCs cover different car problems. Some have full coverage, and others are more limited. Car buyers may also buy a tire and wheel contract, a key fob contract, or an appearance protection contract. There is a whole slew of products that can cover mechanical failures, which are noninsurance-related problems.
What is covered by car insurance versus a VSC? (03:00)
Gina Cocking: Collusion damages, such as if a driver gets hit by another car or runs into a stop sign, are covered by insurance. VSC covers all mechanical failures.
How often are VSCs purchased with cars? (03:40)
Gina Cocking: About 51% of cars sold in the United States through franchise dealerships are sold with a VSC attached to that car.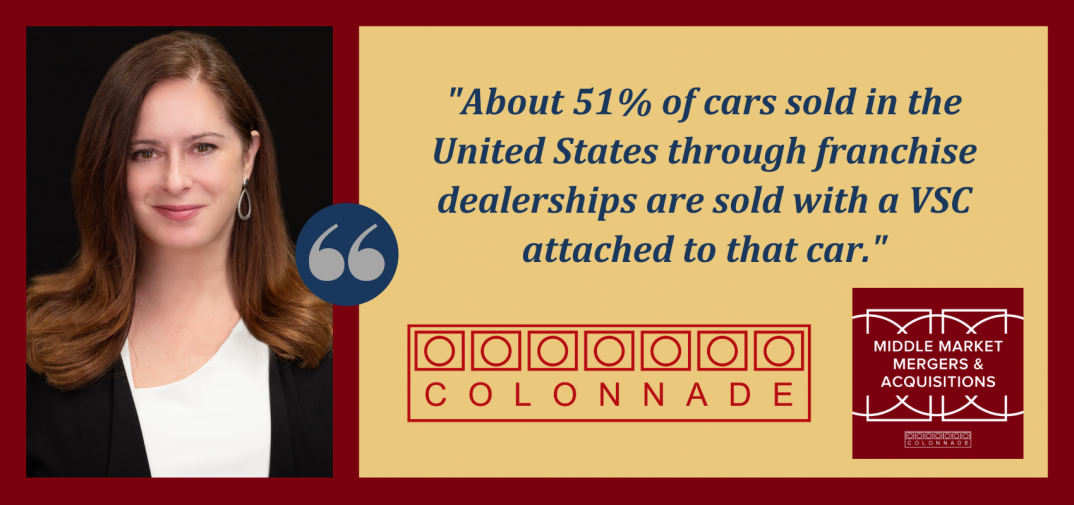 What is the F&I products ecosystem? (03:46)
Gina Cocking: Dealerships are the primary distribution channel as they are selling the F&I product to consumers. Third party marketers also sell VSCs.
The VSC administrators adjudicate the claims. For example, when a consumer has a mechanical failure, they will contact the VSC administrator, who will work with the repair facility to ensure that the repair facility is paid for any claims. If it is an administrator obligor, they are responsible for the payments for the claims.
F&I agents are the intermediary between the administrator and the dealership.
What are the economics of a VSC? (05:16)
Gina Cocking: VSCs are profitable products for dealerships and other sellers. For example, if a dealership sold a VSC to a consumer for $3,000 (VSC usually costs $2,800 to $3,500), the administrator probably sold it to the dealer for $1,000, and $500 was paid to an F&I agent. Therefore, the dealership is going to make a $1,000 profit on the sale of the VSC. Part of the $1,000 paid to the administrator covers administration costs, and part of it goes into the trust to pay for future claims. VSCs are typically a five-year contract. The funds held at the trust will earn out over five years and will be used to pay future claims. Any excess funds in the trust are remitted back as profits to the dealership or whoever owns the trust.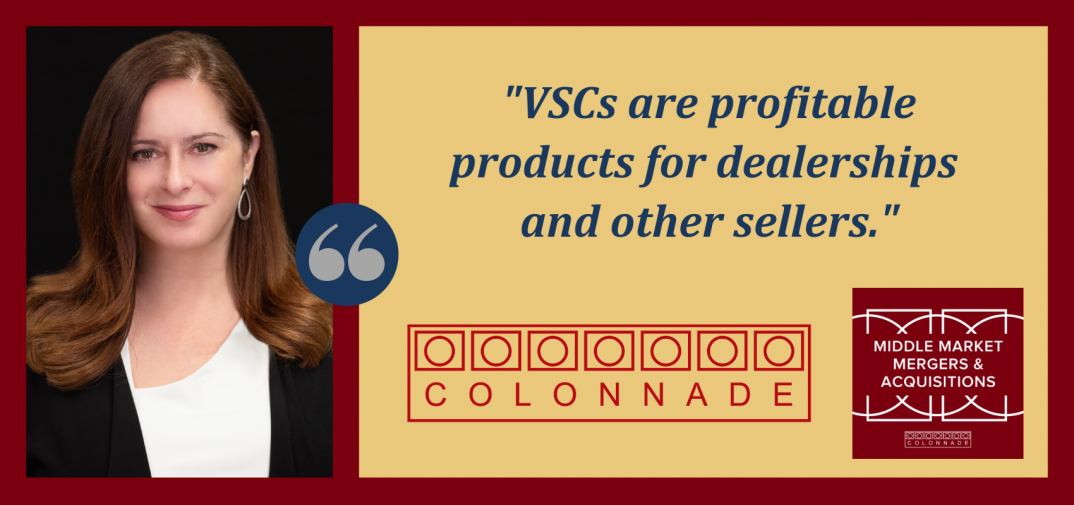 What is the typical F&I product penetration rate on vehicles sold? (08:04)
Gina Cocking: Public dealerships have shown F&I product penetration rate greater than 100% on average per vehicle sold last year, which means they are selling more than one product. Penetration rate continues to increase primarily driven by returning customers who have had good experiences with these products and dealerships' increased marketing efforts around these products.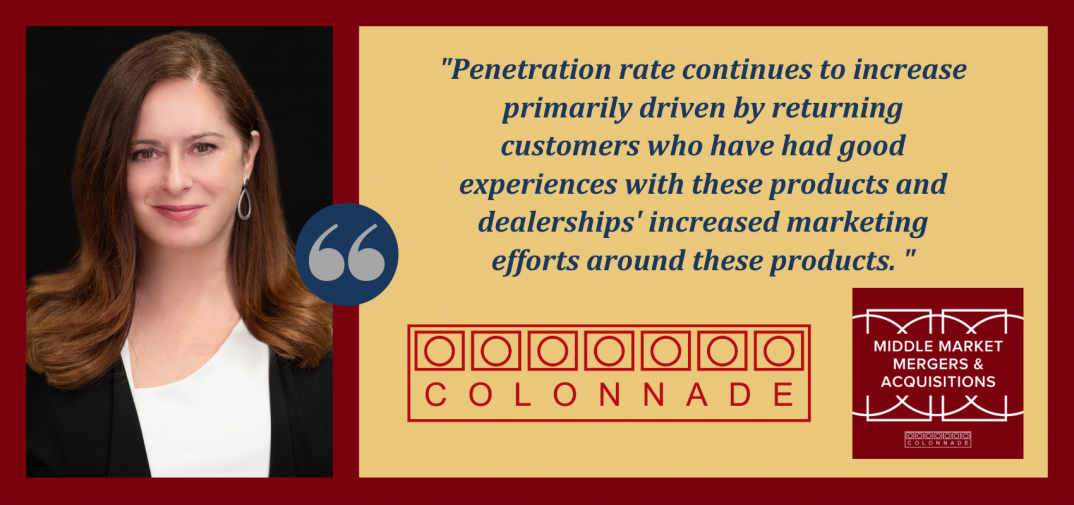 What is the value of VSCs to consumers? (10:53)
Gina Cocking: There is a correlation between the increase in sales of VSCs and other vehicle warranty products and the rise in consumer electronics. If consumers have a service contract on their phone, they should also have a service contract on their car, a valuable asset.
The peace of mind component of service contracts, particularly VSCs, is why consumers are adopting these products. It is an excellent financial management product, but it is not necessarily a product for everyone. For example, some people do not need a VSC because they essentially can self-insure (i.e., have the funds to pay for repairs). However, 40% to 50% of Americans do not have $400 of assessable cash at any given time to pay for an unexpected repair, so these products are a necessary financial planning product to protect one of the most valuable assets, a car.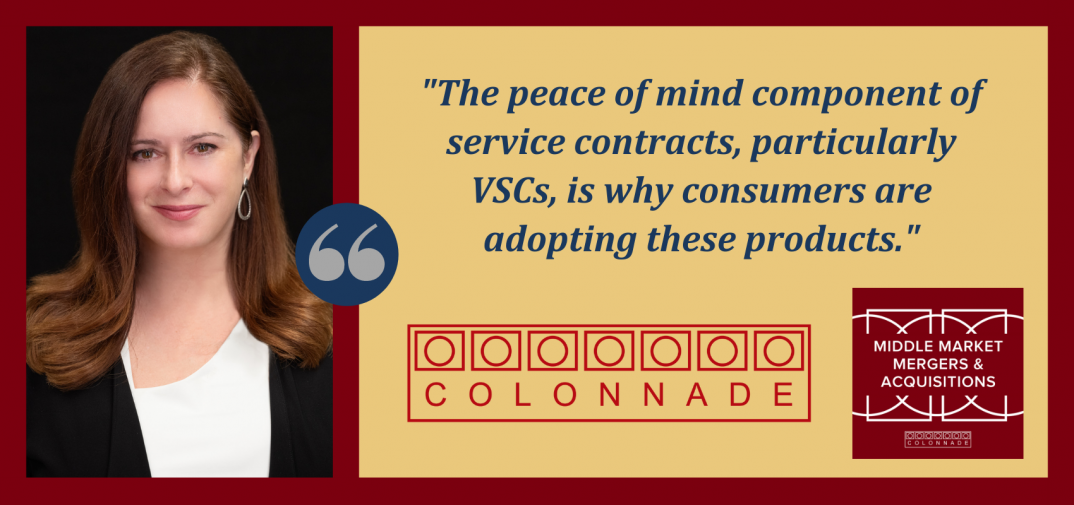 In the past, VSCs have had a bad reputation due to claims being denied. What are some of the top reasons claims are denied? (13:42)
Gina Cocking: Generally, what I see are when claims are denied is that they are usually made during the blackout window. Most VSCs will have a 30-day window post-purchase where you can not make a claim for anything that happens in the first 30 days. The reason for that is adverse selection. The other reason is that it might not be covered by the VSC, which is usually pretty clear in these contracts.
Who are the major players in the VSC administrator industry? (16:52)
Gina Cocking: The two largest VSC administrators that are non-OEM are JM&A and Safeguard. Other administrators include RoadVantage, IAS, and APCO. In addition, there are insurance companies that own administrators. For example, Fortegra owns Smart AutoCare as its warranty administrator, Assurant owns the Warranty Group, and AmTrust owns AAGI.
What have been the consolidation trends in the VSC administrator industry? Why are companies integrating, and what are the benefits? (18:35)
Gina Cocking: Vertical integration brings synergies and distribution. Administrators are locking up distribution channels by buying F&I agencies and buying other administrators. When administrators acquire another administrator, it could increase the geographic footprint and bring in a new market.
Insurance companies are buying administrators because there is some vertical integration by taking out part of the cost structure. Part of the cost structure is called Contractual Liability Insurance Policy ("CLIP"). An insurance carrier provides the CLIP, which is essentially a backstop to the funds put in the trust to pay for future claims. If there are not enough funds in the trust to pay for claims, the CLIP will ensure that the insurance carrier will provide the funds to pay for the claim. There is an expense associated with purchasing a CLIP, so an administrator that vertically integrates with an insurance company will take out some of the expense in the cost structure and recognize some synergies.
The number one driver of M&A activity in the industry is private equity firms, which have been investing in the F&I products sector for over ten years because of the dynamics of the industry. Favorable industry dynamics include large industry size, industry growth, high margins, and high cash flow. Private equity firms often acquire an administrator then make add-on acquisitions to increase distribution and recognize synergies in the expense chain by taking out a layer of the cost structure.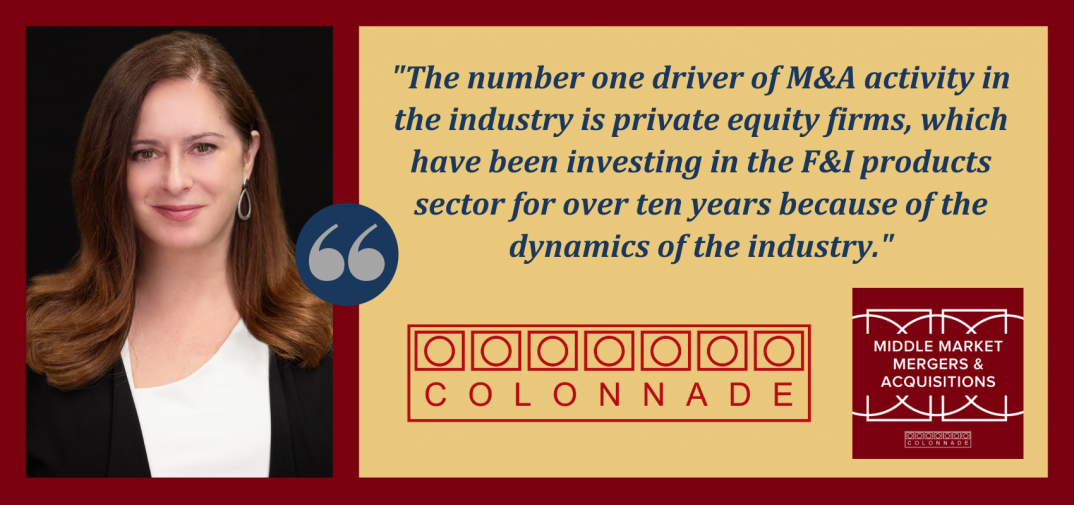 How are VSC administrator companies valued? (24:51)
Gina Cocking: Administrators are valued, typically not on GAAP, but modified cash accounting basis. GAAP accounting matches expenses and revenues with the life cycle of the product. Under modified cash accounting, revenues are recognized at the time of sale because these products are rolled into an auto loan, and the administrator gets payment upfront. The expense associated with reserve for future claims and the CLIP, all the contract-related expenses, are recognized at the time of sale. For a growing business under modified cash, earnings will be higher than under GAAP accounting.
There is real value to the insurance funds in the trust to pay for future claims for an administrator obligor. The products are structured to a certain loss ratio, which is claims divided by the premiums remitted to the trust. Income from the trust should be included in the value of the company.
Other drivers of value in this industry include geographic reach, concentration with dealership groups, and size. Client concentration is important because most private equity firms will not invest in a company if greater than 15% or 20% of its revenues come from a single source. Size matters because bigger companies are worth more than smaller companies.