In this episode, Gina Cocking and Jeff Guylay continue their discussion around the due diligence process related to the sale of a company.
This episode is part of a four-episode series exploring the due diligence process that began with 003 on the business aspects of the due diligence process.
EP003: Business aspects of due diligence
EP004: Legal aspects of due diligence (today's episode)
EP005: Accounting aspects of due diligence
EP006: Technology aspects of due diligence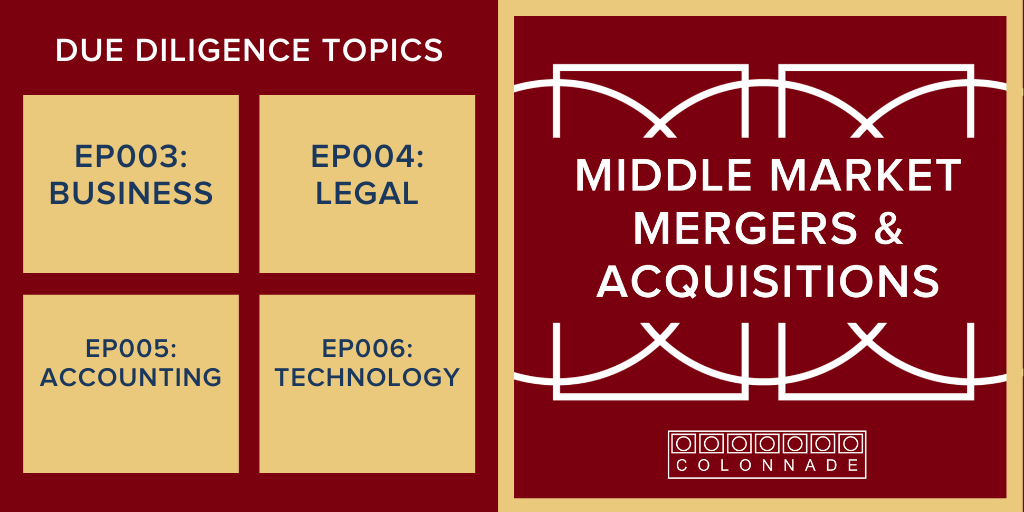 As we explore the legal aspects of due diligence, metaphors such as deep cleaning of closets and going to the dentist for painful, but necessary, maintenance work arise.
Thus our title for the episode: Deep Clean and Hygiene.
Colonnade Advisors invites two guests on this show to provide their perspectives on legal issues for the due diligence process.
Jeff is joined by featured guest, Will Turner, a partner at Steptoe & Johnson, to discuss pitfalls that sellers can avoid as they think about getting ready to go to market.
Later in the episode, Gina is joined by our second featured guest, Rob Humble, Senior Vice President of Strategy and Corporate Development at IAS. Rob shares his insights as a buyer on legal issues that arise in diligence.
There are three key takeaways from the episode:
It is never too early to get your attorney involved when preparing for legal diligence.

Legal issues will not necessarily kill the deal, but structures must be put in place for any outstanding legal issues.

Sellers must know what legal issues might be relevant in a sale, and they must discuss the issues with their advisors in advance.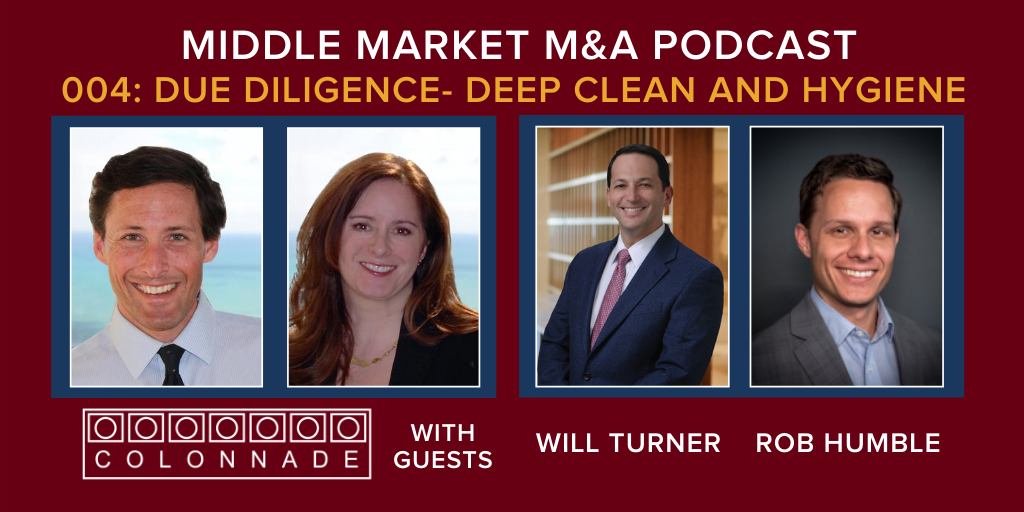 In this episode, Colonnade Advisors addresses the following questions as related to the legal aspects of due diligence:
What are the different legal groups that are involved in a transaction? (02:29)
Gina: "You'll have the corporate M&A attorneys who are working on the purchase agreement and other documents for the transaction; You'll have corporate contract attorneys that will review the contracts that are in place. You'll have employment attorneys who are reviewing employment agreements and HR policies, et cetera. You may have litigation attorneys and, of course, regulatory attorneys. Last but not least, tax attorneys."
What are some guidelines for hiring a law firm? (3:00)
Gina: "You need a really good law firm when you're selling a company, a law firm that can handle all of these services. Go for the big brand name law firm that has all the different practice areas. Remember that the buyer of your company is using a big firm with hundreds of attorneys on staff."
What with the attorneys look at when evaluating my company? (4:42)
Gina: "Attorneys will look at the formation documents to make sure the company is properly formed and registered. They'll look at shareholder documentation, seeing that the shares are issued properly. They will look at employment agreements to make sure that they are valid, and they will review applications and licenses that are necessary for the company."
What is the process like? (6:16)
Jeff: "This whole process is really like a house cleaning exercise on the legal front. We go through and vet everything that the company has put in place historically and take a deep dive look at it. So think of it as house cleaning, but it's a deep dive across all of the verticals that Gina touched on."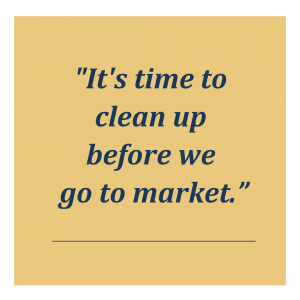 Why is legal due diligence important in the process of selling a company? (7:30)
Jeff: "It's time to clean up before we go to market. As we've talked about throughout this series, getting ready to go to market is in part trying to minimize the time between actually picking up the phone and calling investors and closing. If you have some legal issues that should have been or could have been resolved earlier, that's going to slow down your process and put the business and transaction at risk."

What other kinds of materials do attorneys review? (7:59)
Gina: "Attorneys should be reviewing marketing materials and all the fine print on products and contracts, et cetera. And when we're involved in a transaction, we will ask not only for all the current contracts or product-related language, or whatever's going to your customers, but we're going to ask for the historical."
When should attorneys get involved? (9:00)
Gina: "If you're thinking about selling your company three to five years from now, an attorney should be reviewing your materials now. It's just a good business hygiene practice. It's like going to the dentist. Have your attorney look at your materials. I know it's expensive, but you need to do it."
Jeff: "Expensive and painful, just like going to the dentist."
What is the role of an advisor like Colonnade during legal due diligence? (9:20)
Jeff: "It's our job to anticipate what buyers and their attorneys and counsel and consultants are going to look for in diligence. So it helps us disclose risk upfront and get ready or prepared for what folks are going to want to see later. We manage this process and all these different verticals through these due diligence trackers. These are massive trackers where we're coordinating the assembly and ultimately dissemination of information. Our team is expert at both identifying the things that we need to see, finding out who the right people are, tracking what we have, what we're missing, and in some places and making sure that we deliver what we say we're going to deliver."
How extensive is the legal due diligence process? (10:27):
Jeff: "Each sub-segment can have a hundred plus categories, and there can be dozens of documents within each. We generally gather a thousand or more documents in each due diligence process for a company."
What if a company has a legal issue or lawsuit in its history? (12:20)
Gina: "Running a business is messy, so these things come up. Nobody should be scared by the fact that they've had a lawsuit in their past."
Jeff: "Litigation is inevitable in the corporate world. So it shouldn't be a surprise that a company was involved in some sort of litigation. Most importantly, you're keeping track of all these incidences demonstrates transparency and organization, and that in and of itself goes a long way."
Are background checks part of the process of selling a company? (15:43)
Jeff: We typically, as a firm, don't conduct background checks. We assume that the diligence that we do is sufficient and that buyers and investors are going to do their own background checks. But we do encourage the discussion, just like disclosure that we've been talking about here."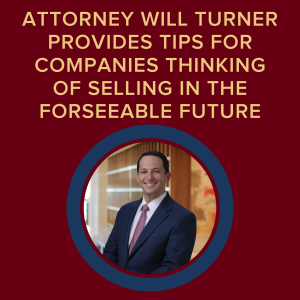 Jeff invites attorney Will Turner to share his perspective on due diligence legal aspects.
What are some pitfalls that our clients can avoid as they think about getting ready to go to market from a legal due diligence perspective? (17:40)
Will: "One of the things that's very common for a buyer to do in a due diligence process is to not simply rely upon the information provided by a seller, but to do some third party searching. That would typically include searches for liens, pending litigation, and judgment. Sometimes older litigation that's been reduced to judgment or filed in order to create a public record for their ongoing rights can be a surprise. It's preferable to know about those in advance.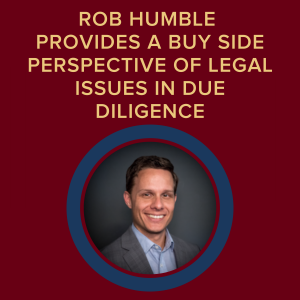 (18:58): "The second thing to think about is who within your management and employee group is a source for valuable information about the company. There's sometimes some tension between informing people about a potential transaction when it's still uncertain. I generally, advise clients to err on the side of bringing people into the information set."

Gina invites Rob Humble, Senior Vice President of Strategy and Corporate Development at IAS, who shares his perspective from the buy sides of a transaction as related to legal due diligence.
When a buyer hears that the acquisition target has some past legal issues, is it a deal killer? (21:11)
Rob: "In my experience, no. Context matters a lot. The bigger concern for me is the trend. Is legal activity increasing or has it been recent? We understand that legal battles are just part of doing business. So we can take those in stride. Every business has legal battles in their past, and we can overlook that as long as it's not a recurring and frankly, current, problem for them."
What if a company wanting to sell has a current legal issue? (21:48)
Rob: "If it is an ongoing situation, you don't know what the outcome will be. Oftentimes legal problems do have a financial component to them. If there's an ongoing financial/legal situation, it could very well have valuation concerns. We prefer not to devalue companies. So a current legal issue puts valuation and even deal completion at risk if we can't quantify the liability associated with an ongoing legal matter."
Featured guests bio and contact information:
Rob Humble
Email: rhumble@iasdirect.com
Rob Humble leads strategy and corporate development for IAS. Before coming to IAS, Rob held strategy and corporate development leadership roles with financial services firms NetSpend and Rent-A-Center. Prior to his time in financial services, Rob held strategy, finance, and operations roles at Fortune 500 companies spanning the automotive, defense & aerospace, and chemical industries.
Rob earned his bachelor's degree in mechanical engineering from Washington U. in St. Louis, graduating magna cum laude. He also holds an MBA from Harvard Business School.
Rob lives in Austin, TX with his wife and two young kids. He enjoys hanging out with his family, distance running, binge-watching the hottest TV shows, watching Oklahoma Sooners football, and indulging in random interests including knitting, furniture building, and home improvement.
Will Turner
Email: wturner@steptoe.com
Will Turner has more than two decades of experience in corporate and securities law, primarily with application to cryptocurrency, fund formation, investment transactions, and mergers and acquisitions. He also advises clients on matters involving capitalizations, project finance, restructurings, and joint ventures. Will is well-versed in securities offerings, '40 Act work, and corporate governance matters. He also advises clients on distribution, sales, technology, and financial services commercial agreements.
Will has represented a number of European companies and investors in their acquisitions, investments, commercial, and regulatory matters in the United States. He has led numerous fund and joint venture formations.