In previous episodes, Colonnade Advisors has outlined our unique 16-week sales process timeline in four phases: pre-marketing, go to market, management presentations/buyer due diligence, and exclusivity/documentation.

Today's episode focuses on phase three: management presentations/ buyer due diligence.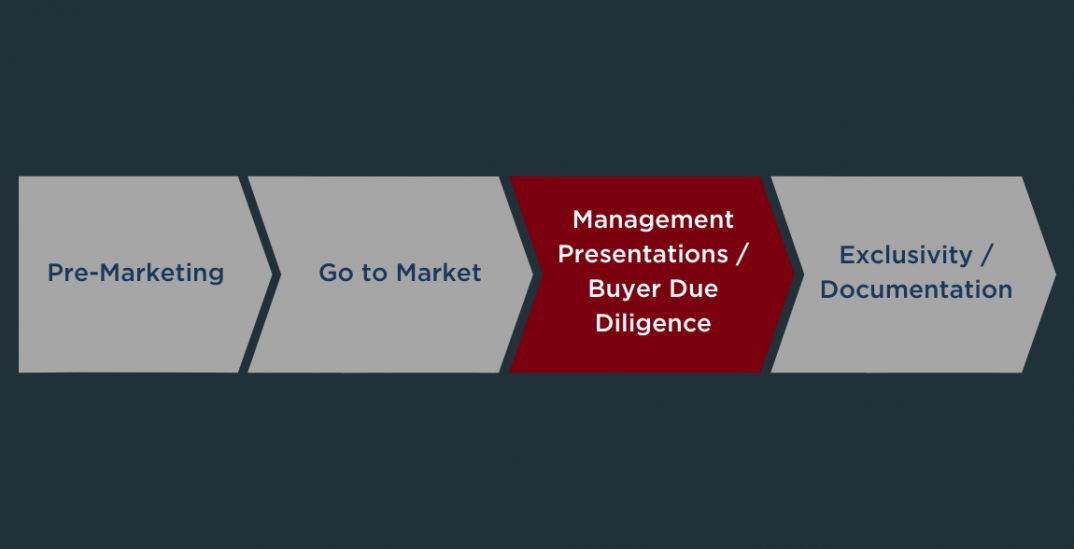 We invite you to listen to episode 001 for more information about phase one (pre-marketing) and episode 002 for more information about phase two (go to market).
Other episodes dive deep into technical aspects and tactics used in middle market and mergers and acquisitions.

We also invite you to download our 16-week sales process timeline for more information on how Colonnade Advisors typically approaches the process of selling a company.
In this episode, we focus on the management meetings, where we introduce our seller clients to a limited set of qualified buyers that have put forth strong offers to buy the company.
Management meetings fall on the heels of all the work Colonnade Advisors does with our clients to prepare for this stage of the sales process. At this point in the game, we've worked through the list of potential buyers and have narrowed the field to the most qualified. Management meetings are the first time the seller's management team will interact with this limited set of buyers.
Thus the title for our episode: Seller and Buyer's First Date.

Key questions explored in this episode are:
What purpose does a management meeting serve?
What topics are covered during management meetings?
Who is invited?
What's the format for a successful management meeting?
How has COVID19 changed how management meetings take place?
How do we best prepare our clients?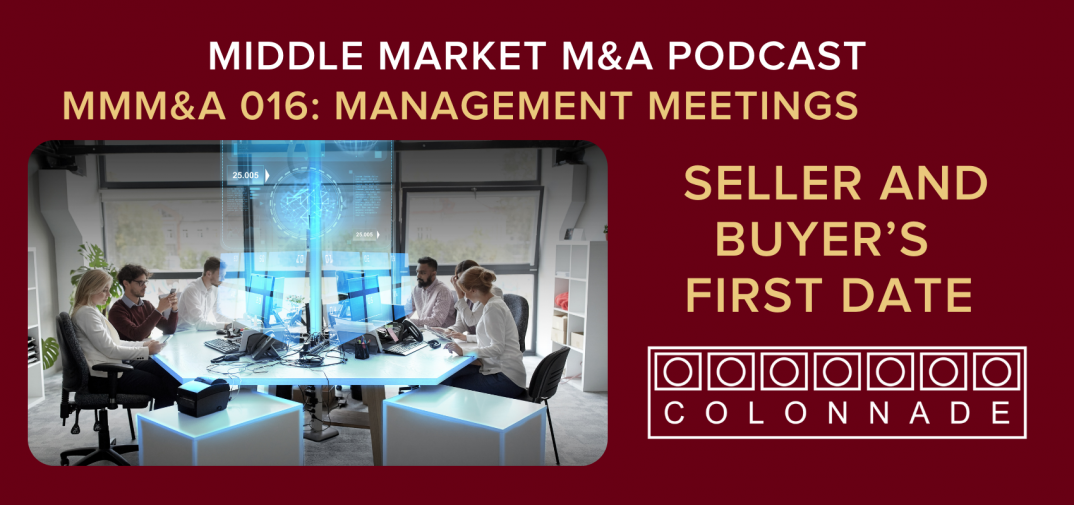 What purpose does a management meeting serve? (02:15)
Gina: "Management meetings are a continuation of the storytelling of the company. It is the opportunity for the management team to tell their story in their own words. Management meetings are different from diligence meetings—it is not a meeting for potential buyers to ask detailed questions. Management meetings are the showcase for the management to tell the origin story, to explain in their own words what the business does. And then, very importantly, talk about the growth opportunities."
What topics are covered during management meetings? (04:35)

Gina: "Management presentations involve much of the confidential information memorandum but told from management's voice. Additionally, financial numbers are updated from when the confidential information memorandum was released. Sometimes, pages are added to the management presentation specific to the buyers we're meeting with."
Jeff: "When we go to market and have one-on-one conversations with buyers and investors, different themes emerge. Some of them are new and intriguing and bring us down different paths and highlight new growth opportunities. We benefit from the collective insights and questions of up to 100 or more different investors that are looking at the acquisition from their perspective. Once we collect all these thoughts, questions, and comments that buyers ask of us, we weave those themes into the management presentation. It is a collection of ideas that we've been able to cultivate from the market."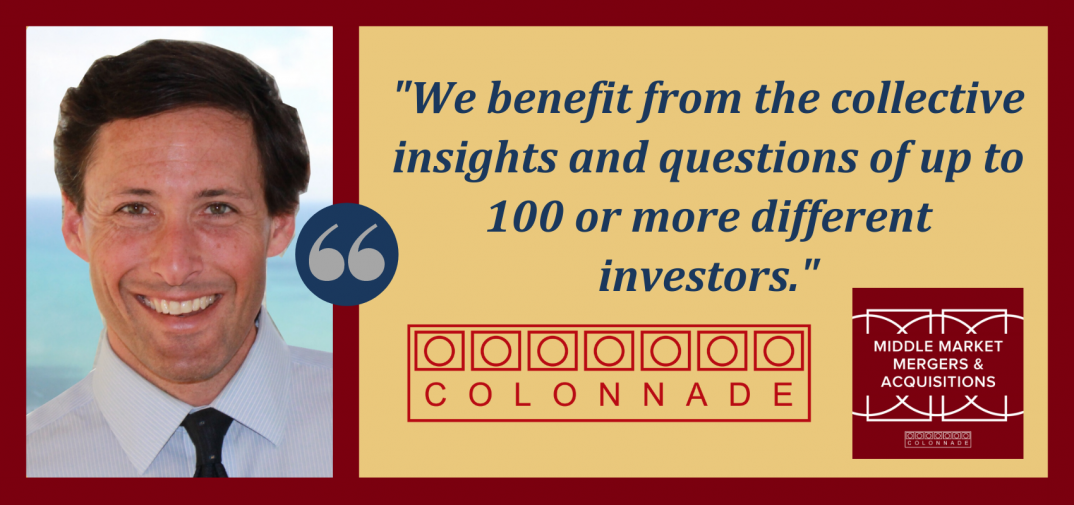 Who is invited to the management meetings? (08:12)
Gina: "From the seller's side, you'll have the CEO, President, the Chief Marketing Officer, the Chief Sales Officer, and the CFO. Management team members that are leaving post-transaction should not attend the management meeting.
(From the buyers' side) if the buyer is a private equity firm, it will typically include Principals, VPs, and maybe some analysts.
If the private equity firm has an investment banking advisor, their banking team will typically attend.
If it is a strategic acquirer, the group may be larger. There may be an internal M& team and/or an investment banking advisory team.
If the buyer is a private equity-backed company, it will usually be the investment banking advisory team, the strategic core team, M&A team, and some of the private equity firm representatives."
What's the format for a successful management meeting? (12:15)

Gina: "Meetings typically take place at the seller's location, either their office or offsite location. Some people will dial into the meeting."
Jeff: "Typically, after the management meeting, the group goes out for dinner. Historically, these dinners have been significant in building relationships and deciding who our clients like and who they don't. A lot comes out in these dinners. From the buyers' side, who attends, their seniority, and how prepared they are, are an important reflection of their interest level.
The best meetings are interactive, going back and forth, and the attendees don't even touch the (presentation) books."
How has COVID19 changed how management meetings take place? (12:47)
Gina: "Historically, there are typically four to eight people attending meetings in person. During the COVID pandemic, things have changed. We've had Zoom management meetings, and because people don't have to travel, the meetings have gotten larger."

Jeff: "The management meetings being virtual versus the (traditional) in-person meetings can be challenging. One of the major purposes of these management meetings is to build a relationship between the buyer and seller. An important role we play is working with our clients to manage this relationship-building inside of the virtual culture that we're living in right now."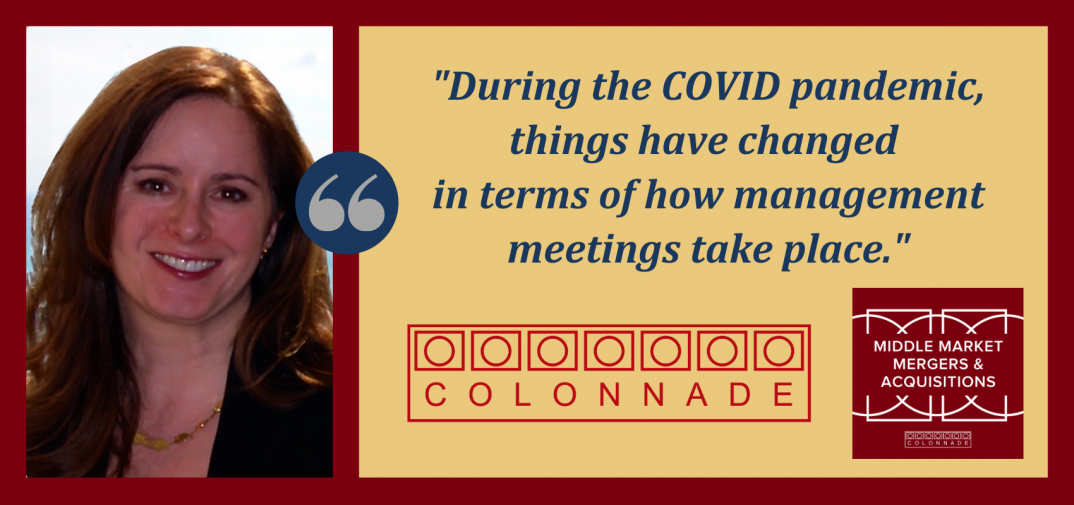 How does Colonnade best prepare clients for management meetings? (17:41)

Gina: "At Colonnade, we will do a profile of each attendee and the firm, a list of questions that they have asked, documents that they have requested, and where we think their interest lies. We also do dry runs with the management team."
Jeff: "In preparing our clients on what to present, we will draft the management presentation and then have the management team review it. We spend a lot of time talking through how it might go, particularly with the list of potential questions that we pull together."
Gina: "We prepare our clients for questions that are likely to come up. One question almost every management team gets is, 'why are you selling now, or why are you raising capital now?' Another common question is 'what keeps you up at night?'
We also prepare our clients for questions to ask of the buyer. One question we encourage everybody to ask is, 'what is your experience in this industry, and what trends do you see in this industry that I should be paying attention to?'
Other great questions are:
'describe an ideal partnership for our firms', and
'tell me about some of your other deals that were successful?'
Jeff: "It is also good for the financial sponsors to talk about some of the deals that didn't go well. If you can get somebody to open up about some challenging situations/investments they've had, that can be insightful.
My favorite question is: 'beyond the capital, why should we pick you? Why are you the best partner for us?'
At Colonnade, we do our best to prepare our clients and get them ready and through the process as fast as we can."